[01.13.15] Almost done with the new Gallery of Coke items. So I'm taking down the old one. Currently working on the Trading Cards upload.
[12.10.14] Still uploading new photos of Coke items. May have to upload first then edit the descriptions later on. Galleries are still under construction..
[11.26.14] Currently updating my site for the latest Coke items. Stay tuned for the new Gallery and the latest count of items.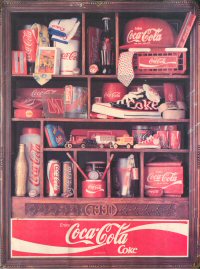 This started it all, a
1990 Coca-Cola Calendar
. It pictures a wooden shelf with different Coca-Cola items. When the year was almost over, I had no intentions of taking the calendar down as it 'painted' part of my wall red. Originally wanted to paint my room red but it was a bad idea so I settled for the calendar that turned into a poster. At that time I had a Coke can
(photo below)
and filled it with 25 cents. Eventually, I had another drink of a Coke in can and noticed that the design was different so I placed it beside my first can...
and the rest, as they say, is history!
The 2nd photo is the very first Coke can that I have. I'm not quite sure what year this came out - I'm guessing circa 1980s (1986 maybe). This is a 355ml can with a triangle-shaped lid and was worth Php 8.35 only.
Click here to enlarge the calendar.







Total Count as of May 02, 2015
---
Distinct/Unique Coke Items =
823
Total Coke Items (Non-distinct) =
857
Trading Card USA =
399 out of 400
Trading Card PH =
197 out of 400
Thank you very much! Maraming Salamat!
---
a.k.a Contributors


[05.02.15] Still updating the list of people who contributed to my collection.
My Family.

My Relatives - Santos: Bodgie & Marie Herrera, Cely Herrera, Cecille Reuter, Florie Maslog, Leo & Sally Tobias & Family, Amycar Santos

My Relatives - Abreu: Dizon family, Laranang family, Lagutang family, Teresa Agustin, Cristy & Jim Abreu, Elma & Reena Herrera, Jojo & Carina Joven, Christine & Edmund Elguira, Tina Abreu, Alfie Donato, Alfred Donato, Rina Laranang-Isidro

My Friends: Alex Anclote, Neil Leuman, Racquel Mendoza, Rhodora (boardmate), Reya Sy Valle, Vivian (Reya's sis), Angelito "ilay" dela Rea, Raffy Alba, Jude Itutud, Jo Tria, Ms.M, Ned Cruz, Jerome Jimenez, Gaydee Gervacio, Dayds, Christian Bautista, Mr. Cabalteja, Mr. Villamejor, Allan Andrade, Mrs. Aguilar, Myrna Hernandez, Mr. Villamejor, Robilyn Rodica, Elvie dela Cruz, Rocky Villegas, Aina Dilao, Celeste Tanedo, Janelita Orlina, Mae Rizada (Coke Tigers PBA), Mr. Bacay, Hazel Parcon, Zony Esteban (Tere's friend), Cristina Estioco, Tatay's students (Philip L., Vincent G., Marlon G., Denis C., Christopher D., Lani V., Amabel), Macel Pascual




Wanna see your name here??? SEND A COKE!!!